Thriving Against The Odds: Coach Duke Baxter on FOX News Shares Insights For Keeping Kids Active During The Pandemic
May 31, 2023
Overcoming obstacles and finding innovative ways to keep kids active during the darkest days of the Covid-19 pandemic was a real challenge.
In his remarkable Fox News interview Coach Duke shared his wisdom and experience on the ways in which the pandemic inspired him to become creative when it came to player training.
With his three boys and daughter by his side, Coach Duke shared the practical advice and valuable insights he has used to touch the lives of millions of children and parents across the nation.
Let's explore how he and his family tackled unforseen obstacles and made a positive impact on their community.
Creative Sidewalk Workouts
When indoor training became impossible, Coach Duke ventured outdoors and got creative with his workouts. Armed with chalk and determination, he transformed mundane sidewalks into dynamic exercise spaces.
Coach Duke revealed the magic of speed ladders, agility drills, and zigzag patterns, drawn with vivid chalk strokes. These lively and fun workouts, featuring burpees, skaters, and power squats, were used by many coaches with dedicated baseball players, to ensure that physical activity didn't take a backseat during these unprecedented times.
Virtual Training Programs
Distance was no longer a barrier to keeping kids in the game. Coach Duke developed an innovative remote training program that spanned 21 days and required nothing more than a wall and a ball.
With over 60 skill-enhancing drills tailored specifically for baseball and softball players in all positions, he brought the training experience directly to the athletes' homes. Through virtual platforms like Zoom, coaches interacted with their players, offering guidance and feedback, and fostering a sense of connection in a time of physical separation.
Kids Leading By Example
It was Coach Duke's children that became the true stars of the show. Their unwavering dedication to the program was amazing to witness.
They enthusiastically participated in the daily workouts and drills, setting a shining example for their peers. Their commitment to staying active and engaged served as a powerful motivator for kids everywhere, proving that with determination and a positive mindset, anything is possible.
The Importance Of Routines
In a world that seemed uncertain and chaotic, Coach Duke emphasized the importance of establishing routines. His wife played a pivotal role in creating a structured schedule for their family.
Mornings kicked off with a nourishing breakfast, followed by a heartwarming family yoga session that brought them closer together. For the first part of the day, the children focused on remote learning, followed by a well-deserved break for lunch and outdoor recess, where they embraced their sidewalk workouts.
By integrating structure, education, physical activity, and leisure time, Coach Duke's family found a healthy balance that nurtured their overall well-being.
The Power Of Adaptation
Coach Duke's resilience and positive spirit shone brightly throughout the interview. Instead of dwelling on the negatives, he embraced the opportunity to explore new training methods by connecting with his athletes remotely.
He emphasized the importance of making the best out of any situation and adapting to the ever-changing circumstances. His unwavering commitment to the well-being and development of his players served as a guiding light during those uncertain times.
Keeping kids active and connected during the challenges of the pandemic was a testament to the power of community, adaptability, and the unyielding spirit of sportsmanship.
Through his sidewalk workouts, remote training program, and steadfast commitment to maintaining routines, Coach Duke provided a platform for young athletes to continue their development and stay engaged in their favorite sports.
We should all celebrate the strength within us as we continue to inspire the next generation.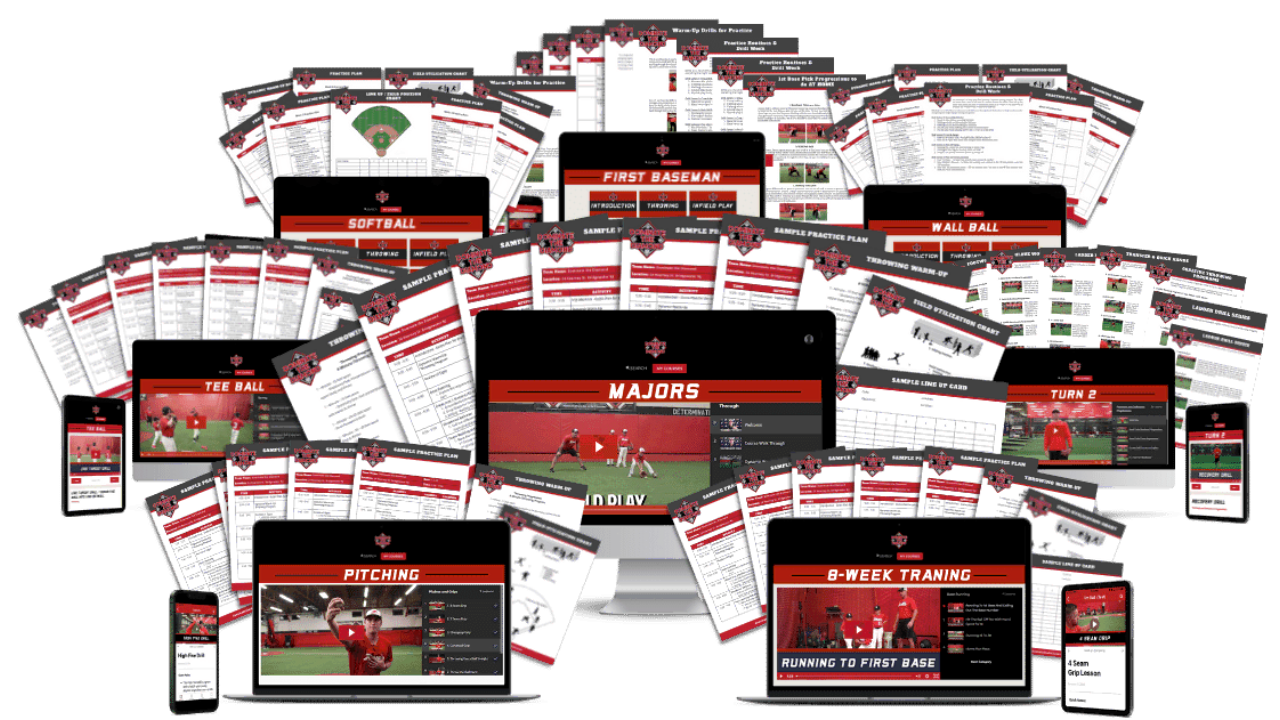 7-Day Free Trial
Get MORE with the All Access Membership
Join our Membership today and enjoy OUR ENTIRE COURSE LIBRARY for FREE for 7 Days! 
Signature Coaching Course - MAJORS

11 Position Specific and Developmental Courses

7 Categories of Developmental Drill Bundles

Private Members-Only Facebook Group
Try It Now!